CHAPTER 1.1
The Mystery of the Eternal Plastics
This magical material can be broken, sliced, diced, torn, burnt and buried, but it just will not cease to exist.
– "Plastic: The Making of a Synthetic Century"
Currently, most of the beverage bottles are made from PET plastic with "1" as the number marked on the bottom of a bottle, signifying that it is made of a type of polyester. Why?

"Because PET plastic possesses the quality of being light, transparent, resistance to shock, and not easily shattered. It is also non-toxic and does not carry any odour, which can be used directly as food packaging, where carbon dioxide cannot penetrate and escape, keeping your drinks carbonated." said Ms. Jiang Nan Qing, secretary general of Plastics Recycling and Reusing of China Synthetic Resin Association (CPRRA).

The problem is, these special characteristics are favourable for beverage manufacturers, but it is a disaster for the environment.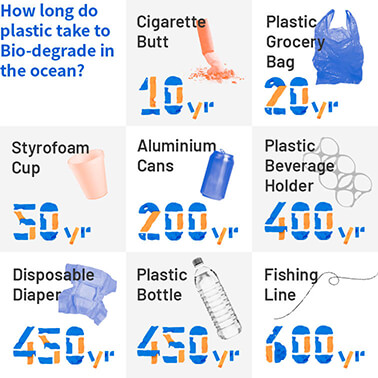 * Exact time varies by product type and marine conditions. Cigeratte butts and grocery bags are an upper estimate.