CHAPTER 6.1
When the Ocean Vomits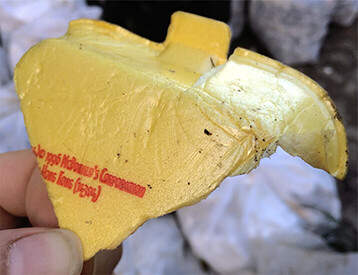 As Hong Kongers, we should remember this scenario: two strong typhoons named Hato and Mangkhut that swept Hong Kong in 2017 and 2018 respectively. The strong winds and currents they brought along causing the oceans to flip out many used Styrofoam and plastic bottles. With the help of the humongous waves, these wastes were all thrown back to land. Located in the northeast coast of Hong Kong Island, Heng Fa Chuen unfortunately became one of the "Onshore garbage patch".

Many neighborhoods voluntarily went to clean up the mess, environmental expert Leo Mak was amongst them. He picked up a piece of yellow Styrofoam, from the words printed on it, we predicted that it is from Hong Kong McDonald's 20 or more years ago. The burger has long been eaten, digested and removed from the human body. Yet, nature is still having "indigestion" problem caused by the Styrofoam that was used to pack the food.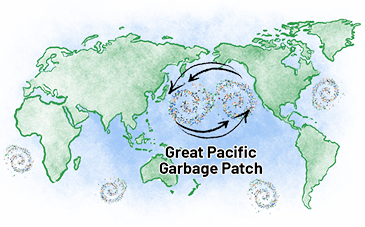 There is a saying: "You have to pay for what you did". Do you know how much debt do human beings owe the environment as a whole? From the naked eye: In the Pacific Ocean, between Hawaii and California there is a Great Pacific Garbage Patch. It is located at a relatively current-stable area in the North Pacific Gyre, while rotating water current brought garbages from all around and parked at this location, slowly building up to become a vast patch.

Everyone was clamorous about the large garbage patch, some say it is as big as Texas, some suggest starting an empire on it and naming it "Trash Isles"…… Finally, scientists came to clarify: These floating objects do not have any physical place to set foot on, and it moves with the current, which is not easy to estimate its size. But one thing for sure, it is not the only one in the oceans.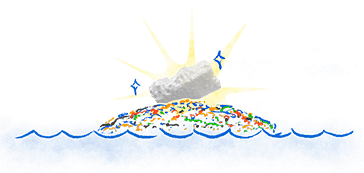 Look at the image closely, in the "Trash Island" that leads to unlimited imaginations, it is not hard to sight Styrofoam fluttering in the oceans; greyish white, reflecting the sunlight without giving a damn.

One day, if the ocean decides to repatriate all these wastes to the land……