CHAPTER 4.1
The Plastic Assassination in Midway Atoll
This is anti-plastic warfare; they are just front-line sacrifices.
– American Wildlife Photographer Chris Jordan
Located in the middle of the Pacific Ocean, surrounded by beautiful corals reefs, the Midway Atoll has been through an ocean massacre during the Second World War, witnessing everything around being "snapped" into dust. After more than half a century, humans kill at this place once again. This time, it is in the name of plastic.

In the family of seabirds, albatrosses are one of the biggest, they can effortlessly spread their wings to 2 meters wide. One of their native homelands is exactly the Midway Atoll. July and August every year are when they would go back to breed. There, albatrosses that have just stepped into adolescence would participate in a miraculous musical; from clumsy group dancing and choir, gradually to elegant pairs, until they finally find their "the one". Unless they failed to procreate for many years, albatrosses will only stay with one companion for their whole life. After successfully hatching the younglings, the two parents will take turns to hunt prey such as shrimps, squids, and other small fishes in the ocean to feed their offsprings. These days of hardship will last for a hundred to two hundred days until the fledglings finally unfold their wings and take off to pursue their journey.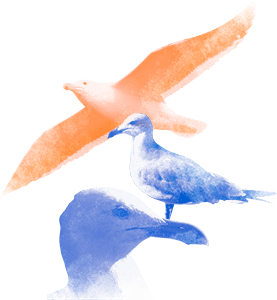 The problem is, this seemingly happily ever after story might not be able to continue.

In September 2009, Chris Jordan and his partner went to Midway Atoll for the first time. Instead of being welcomed by the squawking sounds made by hungry albatross fledglings, they found thousands of dead bird bodies on the beach… Before these fledglings could spread their wings and fly, they were killed by the plastic fed to them. These plastics were all precious "food" brought back by parents albatross. In red and green, they all look scrumptious.

Chris Jordan took photos and filmed a documentary for the dead premature birds, including the plastics inside their bodies.